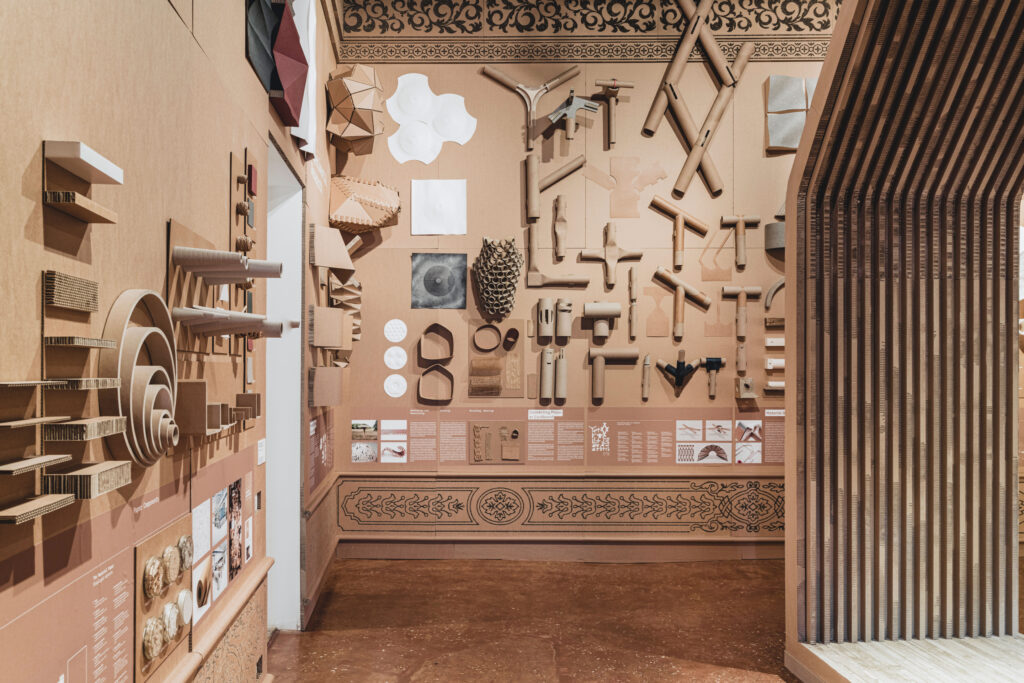 exhibition

Building with Paper Exhibition Venice
Presenting the research project "Bamp! - Building with Paper" on the Architecture Biennale in Venice 2021
all about the project
About Building with Paper Exhibition Venice
The exhibition "Building with Paper" was on display from May 22 to November 21, 2021 as part of the Venice Biennale of Architecture in the exhibition "Time Space Existence" in Palazzo Mora of the "ECC – European Culture Center".
The Department of Sculptural Design was able to present the results of the project "Bamp! Building with Paper" in the field of experimental processes to an international audience for the first time in Venice. The approaches for the development of sustainable alternatives for building with paper and cardboard, as well as the exhibition concept itself, aroused positive interest among the visitors.
As a grand finale of the project, the exhibition concept "Building with Paper" was awarded by the ECC curators at the finissage as the best university exhibition contribution in the
context of the "Time Space Existence"
exhibition 2021.
The aim of the "Building with Paper" exhibition in Palazzo Mora is to draw visitors' attention to the innovative topic of a new sustainable building material for architecture. The visitor enters a room where the walls are completely wrapped in paper or cardboard. Both the exhibits and the cladding of the walls are made of paper materials.
The wall cladding made of honeycomb panels takes up the ornamentation of the Italian Renaissance and transfers it to the material paper. This translation of a classic architectural language onto paper is intended to give the visitor an initial idea of paper as a building material. In addition, the old structure in the interior of the palazzo, which was hidden through its use as an exhibition space, should be made visible again.
The exhibits hung along the walls show the developed basics and principles for building with paper, from simple material combinations to concrete architecture. The individual chapters are only recognizable in the continuous text volume, while the models above seem at first glance to be freely distributed on the wall. The quantity of models on display is intended to provide an insight into the complexity of the research project.
On the first wall, the visitor receives a short introduction to the potentials and challenges that paper as a building material brings with it. In addition to an explanation of what paper is made of, there is a list of the existing industrial paper products.
In the transition to the second wall, the first possible ways of joining these industrial paper materials are shown and finally new innovative paper materials that were specially developed as building materials are presented.
Wall three shows the first semi-finished products and components for buildings made of paper, and the transition to wall four shows various paper construction methods using small house designs.
Wall four explains the large 1:1 demonstrator in the center of the room, which serves as an eye-catcher and makes the paper house tangible for visitors in the form of an archetype. It is built as a massive paper structure from layers of honeycomb panels.
The "Building with Paper" exhibition was on display from May 22 to November 21, 2021 as part of the Venice Biennale of Architecture in the exhibition "Time Space Existence" in Palazzo Mora of the "ECC – European Culture Center"
The exhibition team:
Ariel Auslender, Nina Christl, Veruschka Janouschkowetz, Katja Heiligbrunnner, Fabian Luttropp, Manuel Pfänder, Jannis Protzmann, Tim Sarbacher, Marco Volkmann, Andrea Wittmann