»ITERATIVE DESIGN PROCESS«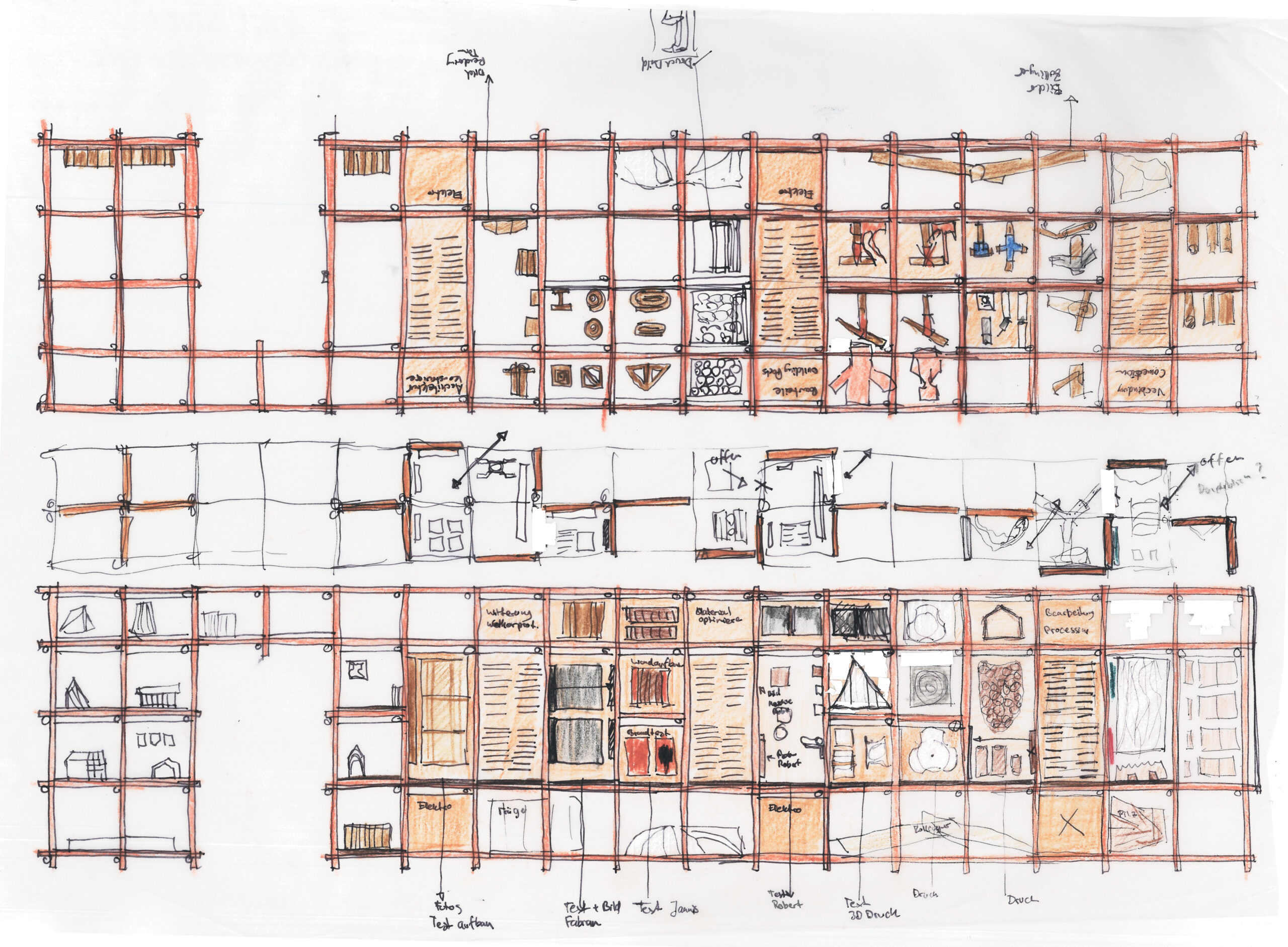 »FUNDAMENTAL EXPERIMENTAL RESEARCH FROM FIBER TO BUILDING«
Research Work
The focus is always on the experimental exploration of the topic of building with paper in the field of architecture and design. It is a search for possible applications and the question of which geometric and functional parts and pieces with which haptic properties of a building component are needed and could be needed to implement them in architecture. In addition, there is the question of the possibility of inventing these new materials or optimizing existing ones. In all this, experimental research on models and abstraction methods offers the possibility to work in trial and error to arrive at application approaches in a different way. And finally, in this way, images are created that are the basis for communicating ideas and changing the image of paper and cardboard, and for enlivening the thinking process.
The focus is on the exploration of the material, starting from industrial products and partially refined raw materials, as well as its further craft processing into building products for practical use. Through these tests on the material, issues for the process of material optimization are defined. The findings from the process provide new ideas and are to be incorporated and verified in realistic models. The research and development of models takes place in experimental setups and studies. The theoretical and haptic examination of the material represents a multiple development loop, an iterative design process in the sense of architectural design.
University Teaching
In several seminars for students, the examination of the material was integrated into the university teaching and ideas and concepts for structures/architectures made of paper were developed in collaboration with students.
1 to 1 seminar, 2017 – 2019, student seminar with the focus on realizing models made of paper and cardboard in 1:1 application scale, FGPG, Fabian Luttropp, Marco Volkmann
Paper Workshop, 2019, workshop at the faculty of architecture of the ETH Zurich, FGPG, Fabian Luttropp, Marco Volkmann
 Impromptu: Paper Chair Workshop, 2019, student one day workshop on the design of a paper chair, FGPG, Marco Volkmann
Projects / Events
Instant Homes, 2014/2015, interdisciplinary research project funded by FiF Forum for Interdisciplinary Research at TU Darmstadt, development of emergency shelters made of paper as application-oriented research
BAMP! Building with Paper, 2017-2021(2022), interdisciplinary research projects within the framework of LOEWE funding from the State of Hesse, priority research
»tu-darmstadt.de/bauenmitpapier«
Lectures
Shaping the City
Museumsdialoge Düren
Lecture series on innovative building – Lecture on Building with paper!, Arup Company 2019, Berlin, Fabian Luttropp
Guest lecture Genoa, Faculty of Architecture, Prof. Christiano Lepratti, 2018, FGPG, Prof. Ariel Auslender, Fabian Luttropp
Radio contribution for Hessischer Rundfunk – Building with paper!, 2018, TU Darmstadt, Fabian Luttropp, Marco Volkmann
Exhibition stand and lectures – Hessentag – Building with paper!, 2018, Korbach, Fabian Luttropp
TV contribution – Hessenschau. Hessentag – Building with paper!, 2018, Korbach, Fabian Luttropp
Lecture – Interdisciplinarity – FiF Workshop, 2018, TU Darmstadt, FGPG. Prof. Ariel Auslender
Exhibition stand and flyer – Forum 10 years FiF, 2018, Darmstadt, FGPG, Fabian Luttropp
Panel discussion – Festakt 10 Jahre LOEWE. 2018, Frankfurt, FGPG, Fabian Luttropp
Presentation and guided tours – for the public on the topic of BAMP! project, "Hellwach – Der Wissenschaftstag" at TU Darmstadt, 2018, Fabian Luttropp
Lecture – Building with paper, a perspective, 2017, FH Wismar, FGPG, Fabian Luttropp