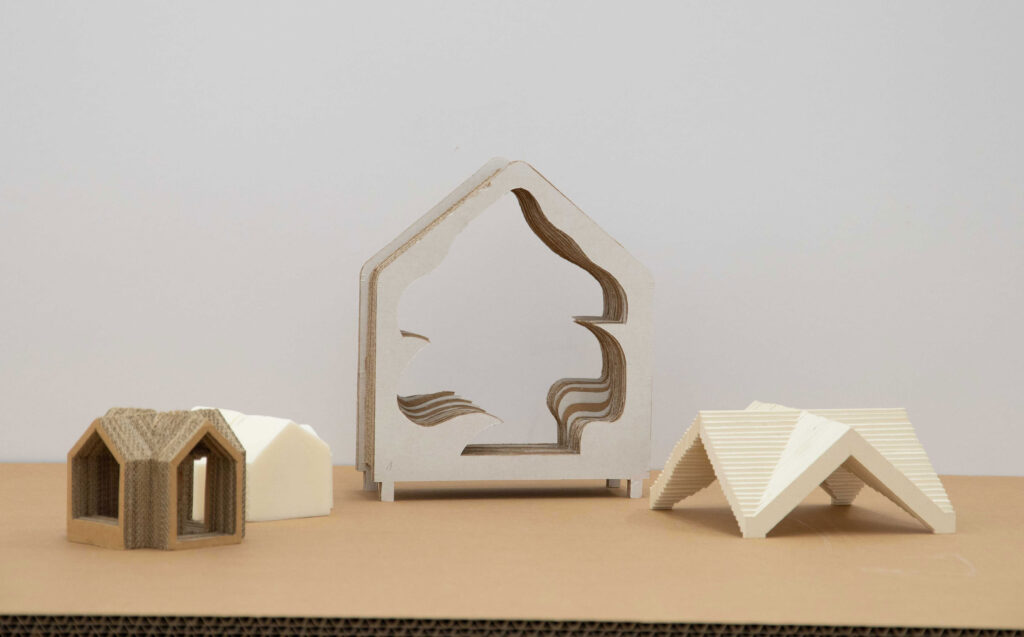 architecture
design

House 02
Layered Cardboard House
all about the project
The interdisciplinary team of scientists of the Building with Paper project started its research work with the planning of architectural constructions and details for demonstrators made of paper materials. 
The experimental set-ups served to issue statements about the usability of currently available paper and cardboard materials for use in the construction industry. Simple considerations of constructions on a 1:1 scale with paper-based production, design and jointing methods stood at the foreground of a systematic approach. 
Initial applications were tried on a 1:1 scale, and a theoretical-conceptual series of house demonstrator designs under consideration of different construction and building methods were defined. In addition, basic requirements of the construction itself were established. The outcome were two houses made of common paper materials: House 01: frame construction, made of paper roles, and House 02: made of honeycomb panels joined to a solid construction. The simple house archetypes with a rectangular floorplan and a steep saddle roof are pre-studies for the model shown in the Building with Paper exhibition in Venice 2021.
Since HOUSE01 offered experience with the use of paper roles, HOUSE02 was focussed on the use of planar paper materials. Honeycomb panels and coated corrugated boards, in particular. The basic prototype construction was to be comparable to that of the first demonstrator. Therefore, the house is a simple, rectangular building with a saddle roof, as well. Besides the choice of materials for the main construction, the building was designed and dimensioned to accommodate the requirements in terms of own weight, wind loads and snow loads. It was then possible to calculate the structural requirements considering the construction and jointing used. 
The construction process, especially the element-based concept and jointing of the many individual parts was defined by the selected principle of layering honeycomb panels. The structural parameters pose the most important requirements of the construction development.